Long-awaited iPhone6 officially released the apple in addition to publishing iPhone6, also launched iPhone6 Plus, everybody for both the appearance of mobile phone is no longer strange, this release iPhone6 and iPhone6 Plus the appearance of exactly the same as that of early exposure of information online, and even cell phone camera bump has early exposure, although the lack of surprise, but apple in conference brings something we don't know, let's to interpret a iPhone6 and iPhone6 Plus main characteristics.
1.Shape


IPhone6 and iPhone6 Plus difference lies in the size of the screen in terms of appearance, iPhone6 screen size is 4.7 inches, the screen resolution is 1334 x750, pixel density of 326 ppi.While iPhone6 Plus screen size is 5.5 inches, has reached the level of the current domestic Android smartphone, iPhone6 Plus screen resolution is 1920 x1080, pixel density of 401 ppi.
2.Camera
IPhone6 and iPhone6 Plus all USES a 8000000 megapixel camera, but two of the specifications of the mobile phone is not the same, compared with iPhone6, iPhone6 Plus performance better, support OIS optical image stabilization technology, let you piece rate is higher, while taking the photo more clear picture.
Hardware/processor
In the aspect of hardware core processor, the iPhone 6 and 6 Plus are equipped with a more robust performance level 64 desktop computer architecture A8 processing chip.At the same time, as to enhance the effect, such as the games, video, performance, two new iphones joined the M8 movement coprocessor.Understands from the conference, a new generation of A8 and M8 coprocessor than previously A7 chip has a big improvement.
3.System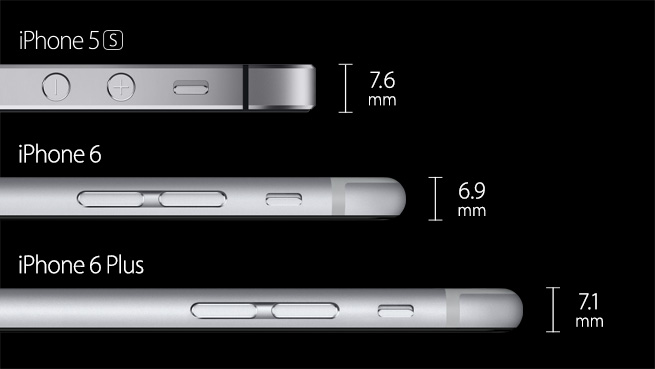 The event, the description of the new system iOS 8 isn't too much.New content, ios 8 joined the new health and fitness App, provide apple smart watches with application software, content support;And the App in the new Retina HD display screen better effect is clear, and it can make full use of the A8 chip level 64 desktop computer architecture, play the maximum effect.
4.Apple pay
In addition to the two new iphones, support NFC NFC technology, and can realize the function of mobile payment, is also a new bright spot of this conference.Cook said in the release, by adding mobile payment function of the new iPhone will replace iPhone wallet.
Apple's new mobile payment is referred to as "Apple Pay", through the new iPhone NFC technology to carry out specific implementation.Mobile phones and can support the bank card payment sensors in contact, input the corresponding security authentication codes can be realized.